"It seemed like life just couldn't get any sweeter.
But then, in an instant it all changed." – March 8, 2002
My testimony: GOD IS FAITHFUL!
On the outside looking in you might have thought I had it all. And in reality, I had a pretty charming childhood. My parents raised my two younger siblings (Julia and Jeremy) and me in a strong Christian home in a small town in Louisiana. Let's just say I knew that I was loved and I never wanted for anything. Our family was extremely close and there was no reason to think that we would be anything but that way. My freshman year in college, I met the man of my dreams, Adams, in Sociology 101 class. We have a dramatic love story, but it will suffice to say that the Lord provided me with a really, really good man.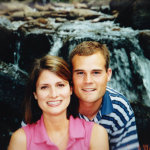 It seemed like life just couldn't get any sweeter. But then, in an instant it all changed. Friday, March 8th, 2002, started out as an ordinary day. My parents were vacationing in Florida waiting to board a cruise ship. My brother, Jeremy, a Junior in high school at this point, was in my care while my parents were out of town, and I was looking forward to just hanging out with him. Around dusk that evening my sister, Julia, and I both received phone calls telling us, "go to the hospital immediately. Your brother has been in a horrible car accident." I remember crying out to God in the car while Adams drove as fast as he could. I ran into the hospital shouting and demanding to know what was going on. I remember seeing face after face of teenagers he was friends with…all of them crying and hugging each other. I found Julia and asked her what in the world was happening. The hospital staff ushered us to a private room and it was there that I was told that my beautiful, hilarious, larger-than-life brother was dead. There was no hope that he could be revived. No time to even beg God for mercy. It was just done. Final. He was only 17.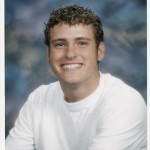 "I cry aloud to the LORD;
I plead aloud to the LORD for mercy.
I pour out my complaint before Him;
I reveal my trouble to Him."
Psalm 142:1-2
That night passed in an awful blur. Julia and I spoke to my parents on the phone from the hospital delivering the unfathomable news that their son was dead. Plans were made to fly them home that night. While lying on my bed in the fetal position, I felt as though a rubber band had been placed around my heart and was squeezing the life out of it. It was all so surreal…so unbelievable…so wrong. We made it through the next few days carried only by the prayers and love of our friends and the strength of the Holy Spirit. The funeral was filled with people that loved Jeremy. There was a tremendous outpouring of love on our family and we soaked in every story that was told to us concerning Jeremy.
Days turned into weeks and slowly but surely people began getting back to their normal lives. But there was no more normal for us. We were left with shattered hearts and it all seemed so unfair. We all grieved in different ways. I took more of an angry approach questioning everything that I had believed to be true of God. But thankfully I serve a God who is big enough to handle my hurts and questions. He was faithful to hold onto me and eventually heal my broken heart.
I learned so much about the sovereignty of God through losing Jeremy. I never will understand why Jeremy had to die that early, but I do know that God is still in control and His ways are higher than mine.
"'For my thoughts are not your thoughts,
neither are your ways my ways,'
declares the LORD.
'As the heavens are higher than the earth,
so are my ways higher than your ways
and my thoughts than your thoughts.'"
Isaiah 55:8-9
With heavy hearts, my husband, Adams, and I tried to stay focused on our careers but it wasn't long before I started having that maternal tugging at my heartstrings. We began trying to have a baby, but month after month nothing happened. I visited several doctors, had exploratory surgery, and went through several unsuccessful rounds of IUIs, but the diagnosis kept coming back as unexplained infertility. It was around this time that I joined a Bible study and it was in these dark days that my passion for Bible Study and God's Word was ignited. I realized that I really had no control and that I didn't even want control. I finally released all of the worry and pain to Him and was able to learn the true meaning of delighting myself in HIM, not in my circumstances. But my heart still yearned to be a mother and for three years I had not conceived even once.
"Delight yourself in the Lord and He will give you the desires of your heart."
Psalm 37:4
It just so happened that Adams had made a new acquaintance through his work who confided that he and his wife had been through similar issues. This couple took us under their wings and introduced us to a doctor in Alabama who would diagnosis us correctly and lead us through the in-vitro process. There is no doubt in my mind that this special couple, who have three beautiful girls of their own, were used as an instrument of God. We conceived our sweet Adelene on our very first round of in-vitro fertilization.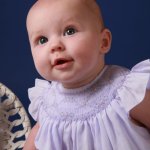 "He gives the childless woman a household, making her the joyful mother of children. Hallelujah!"
Psalm 113:9
We welcomed Adelene (Addie) into the world in January of 2007, and every family member was so crazy in love with this precious baby. My maternity leave was coming to a close and I hadn't yet found an acceptable day care for her, so I naively entered into the hardest job of my life…a stay-at-home mom!
Ironically, the arrival of our long awaited blessing proved to be a challenging time for Adams and my marriage. But we both felt as if we had made a commitment to one another so we began to diligently work on our relationship and tried to stop just surviving and begin thriving once again. It has been hard work and we sometimes still struggle with our roles, but I feel like we try to make the conscious decision to grow closer together as partners, friends, and lovers. God has been so good to develop a maturity in our marriage that I pray only gets better with each passing day.
"Take your everyday, ordinary life—your sleeping, eating, going-to-work, and walking-around life—and place it before God as an offering. Embracing what God does for you is the best thing you can do for him. Don't become so well-adjusted to your culture that you fit into it without even thinking. Instead, fix your attention on God. You'll be changed from the inside out. Readily recognize what he wants from you, and quickly respond to it. Unlike the culture around you, always dragging you down to its level of immaturity, God brings the best out of you, develops well-formed maturity in you."
Romans 12:2 via The Message
Adams, Addie, and I settled in to our little family of three but it wasn't long before we felt the desire for another baby. We returned to the same doctor and conceived another healthy baby girl. Ellanora Grace (Ella) was born in August of 2009, and she has been an overwhelming joy to our family. When I think about how abundantly God has blessed our family I can't help but want to fall on my knees. He has given me so much more thanI deserve and more than I could even think of to ask.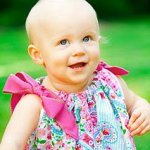 "You turned my wailing into dancing; you removed my sackcloth and clothed me with joy, that my heart may sing your praises and not be silent. Lord my God, I will praise you forever"
Psalm 30:11-12
Now seven years later we are once again living a sweet life. Sure, we have our ups and downs and I am far from the perfect mother and wife, but God is good and He can take my imperfections and still use them for His glory. That doesn't mean that I don't stumble or that I don't sometimes eat the whole plate of lies that the enemy serves to me, but I know that I serve a God who is who He says He is! I pray that if you take anything from my story it is that you would see that God has been faithful through every part of my life. I know that He is not done with me and that there will be more trials to endure in the future, but there will also be more blessings to receive if I just keep praising Him and remembering that HE IS FAITHFUL.

Your turn! Share your story here: