I've never been one to get the "Back to School Blues."  I always loved the butterflies of the first day of school, carefully planning my outfit and making sure that my backpack was ready to go with my freshly sharpened pencils.  I couldn't wait to meet up with my friends in the hallway and hear all about their summertime activities hoping that we all had the same homeroom teacher.  Nerdy, I know. These days it's more about getting my kids ready for the big day, so that's why I asked my cool and fashionable friend Rachel King to enlighten us on the latest trends so that not only are our kids ready for school, but we are ready to rock too.
Rachel is a mom to three super fun children and in all her "spare time" she works part time at the Buckle in Monroe where her husband is the manager.  Rachel loves living room dance parties, Diet Dr. Pepper, and group texts. Her life verse is John 16:33.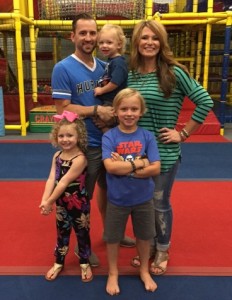 Hi! Let's get started with some simple layering techniques that will fully utilize what's in your closet and let you know a piece or two you might want to add for the upcoming season.
4 Basic Layering Styles for Fall:
1. Solid over solid (Smile! You got this one, I know!)
***Your denim shirt fits into this one.  If you don't have one, it's a must!
2. Solid over print (animal prints, stripes, florals, graphics)
3. Print over solid (flannels, animal prints, striped flyaways, etc.)
4. Print over print (Don't be scared! It's 2015!)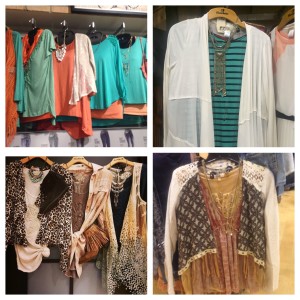 Before we leave our "top" category, I'm here to tell you that PLAID is RAD!!!!! Get you some!!!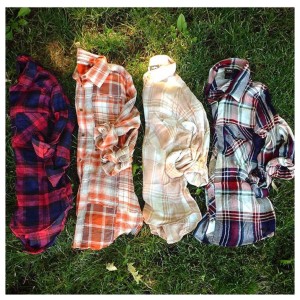 And STRIPES are ALL the HYPE!!!!!! Don't let the "stripes make you look bigger" rule of like 1950 keep you from embarking on the journey of all things striped. I don't agree! Try on a looser fitting striped type and the opposite effect takes place. If you are still unsure, there are plenty of other ways to were the stripe. The pic below just has stripes on the sleeve or you could just do a shirt with stripes on the top half.  Still nervous? Grab and striped scarf and you will be fine.
Shredded denim is huge.
As far as bottom openings go, skinny/straight are still on top, but the flare is back! I'm not leaving out the basic bootcut though. You still need that staple so in this category, ANYTHING goes! Find you a fit/fabric that makes you feel awesome, and head to car pick-up in style.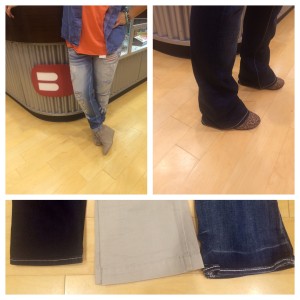 Ok. Fall footwear…I am so excited, I can barely type! Boots! EEEK!! Short boots, tall boots, western influences, fringe, studs, embellishments, eyelets, laces, straps, and boot socks-OH MY! Here are a few pics of the latest beauties: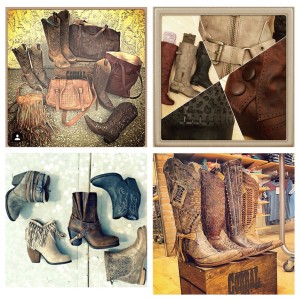 You might not love them all, but you def need a new pair of at least one of these styles to get your feet moving in the upcoming busy months.
Next must have in footwear: WEDGES. Comfy and funky fresh! My fav are the leopard print, for sure.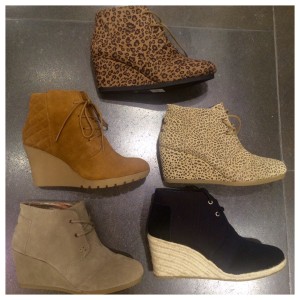 On to the kiddos….
Of course it's easiest to throw your kids in some Under Armour and run out the door, and I'm not saying that's wrong! There's tons of cute active wear for youth girls and boys and both mom and child can agree on this outfit most of the time.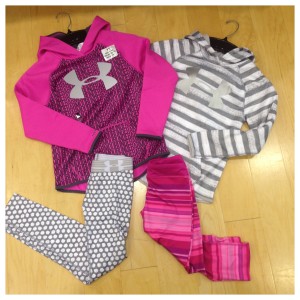 But ya gotta switch it up every now and again! Most of the latest trends for adults carry right over to the youth sizes. Flower patterns, flowy body styles, animal prints, arrows, and plaids are all over little girls and youth gals tops right now.
Jeans for little gals have a few more rhinestones and fun colored threads, but still come in skinny, straight, and boot cut.
For the little studs of the family, plaids and stripes are rockin'! I know at Buckle, we carry most of the same brands in boys as we do in men's which is fun and easy! Graphic tees, baseball sleeve length two-tones, v-neck solids, and hoodies will be hot for the boys this year. (Youth sizes start at size 6 on the boys side and 7 on the girls at Buckle.)
It's gonna be a great fall for fashion, friends! ~ Rachel
Rachel, thank you so much for your awesome fashion advice! You remind me of the Proverbs 31 woman in the way that she dressed in "fine linen and purple gowns," but more importantly:
"She is clothed with strength and dignity;
she can laugh at the days to come."
Proverbs 31:25
I hope everyone has a great "Back to School" week and that the only "blues" you have are your rockin' jeans!