Don't you just love wedding season? Stately churches are decorated with gorgeous flowers.  Monogrammed programs and napkins are neatly stacked.  An endless processional ensues of bridesmaids wearing similar dresses of the latest fashion that may or may not be flattering to their body type.  The Father of the Bride holds out his arm to escort his "little girl" down the aisle and kisses her cheek before he gives her hand in marriage.  The mothers are crying softly and dabbing their eyes with a tissue.  Champagne toasts are given and decadent wedding cake is served until eventually the dance floor is filled with guests dancing to "Brick House" and "Brown Eyed Girl."
There are so many things about weddings that I love, but my absolute favorite part is watching the face of the groom as the church doors open and there stands his bride in her wedding dress walking slowly toward him.  It gets me every time!
Recently my husband and I attended a Catholic wedding where the bride was of Hispanic decent. She was positively breathtaking with her olive skin and dark hair contrasting against the bright white of her dress. But that's not what made her beautiful…
As the priest began to prepare the communion a small worship band began playing "Great Are You Lord" by All Sons & Daughters. The bride and groom were kneeling before the altar and quietly she began to worship the Lord as the band played. As the song progressed, I could see her moving with the music and opening her mouth to praise the Almighty as she sang these words:
All the earth will shout Your praise
Our hearts will cry
These bones will sing
Great Are You, Lord!
It struck me that on her wedding day, one of the most important days of her life, her heart's desire was to worship her King with her soon-to-be husband by her side. She wasn't concerned with what the guests were thinking, or if the train on her dress was straight, or even if the reception would be well attended…she was there to worship.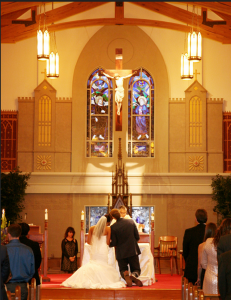 I couldn't help thinking what the Father must have thought in that moment as He saw this beautiful bride, His child, bringing Him praise. Jeremiah 33:11 talks of the day when the voice of the bridegroom and the voice of the bride, the voices of those who sing, will bring thank offerings to the house of the Lord:
"Give thanks to the Lord of hosts,
for the Lord is good,
for his steadfast love endures forever."
At the reception I was able to steal a quick moment of the bride's time and I told her, "The Bride always steals the show, but you were absoultely beautiful. Thank you for your example of worship."
Sing on, Beautiful Bride…Your Groom awaits.