Summertime is in full swing, as is the air conditioning and the consumption of sweet iced tea.  Here in the deep south, one of our favorite summer pastimes is to take long boat rides down the river, sometimes water skiing for hours on end, and other times fishing until our heart's content. It is always great fun to slather on the sunscreen and fellowship with friends and family, enjoying the day without a care in the world.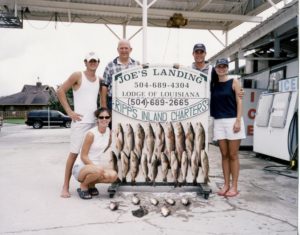 However, I know firsthand that in an instant the weather can change and a severe thunderstorm can appear out of nowhere.  This exact thing happened when I was on a family redfishing trip in the deep marsh off the coast of New Orleans.  One moment we were soaking in the warmth of the sun, and the next we were fleeing to find shelter from the pelting rain.
We raced to the nearest boat dock and hurriedly put our anchor down to keep us from slamming into danger.  And as we huddled together waiting for the storm to pass, we were thankful for the sense of security that the anchor provided us with while we waited and hoped for the sun's return.
This situation reminded me of the imagery of a sure and firm anchor that the writer of Hebrews gives to illustrate the promises of our faithful God.
"So that…we who have fled for refuge might have strong encouragement to seize the hope set before us. We have this hope – like a sure and firm anchor of the soul." (Hebrews 6:18-19)
He lets us know that when the storm rages, it requires more of us than simply to remember the promises of our unchangeable God, but we must also "seize the hope set before us."  We reach out our hand and take hold of something sure and firm.  Something that is bigger than the wind and the waves. It is hope.
It is hope that centers us.  Hope that keeps us from crashing into the bank.  Hope that keeps our eyes on Jesus instead of our circumstances.  Hope as an anchor for our frightened soul.
The storms of life will undoubtedly come our way, usually when things are moving along just fine.  We may be caught off guard at first, wondering where is God in our time of need.  But then we remember that He has given us His promises as something firm and sure to keep us centered.
He has given us hope to seize.  He has given us Jesus as an anchor for our soul. 

God, You are my refuge when the storm rages. Help me to seize the hope that You have given me and to look to Jesus as the sure and firm anchor for my soul. Amen.