I don't consider myself a gourmet cook, but I do enjoy the art of cooking…when I have the time.
Growing up, my mom was a houdini of sorts in the kitchen.  She rarely had a plan, but somehow we always ended up with a tasty and hot meal at dinnertime.  Of course, to my detriment, I never offered to help her prepare the meals.
It wasn't until I was married that I began to learn how to cook from Adams' grandmother.  She has spent countless hours with me in the kitchen sharing her down-home recipes and showing me how to put up butter beans and fresh sweet corn.  Both my family and I love her for it.
Adams and I set a new year's resolution to pick out one new recipe each week and cook it together.  This week we made Shrimp and Grits and they were delicious!
First, you have to peel and devein the shrimp.  Honestly, this is the hardest part about this recipe, but it is a labor of love that southerners must endure in order to have this wonderful crustacean in our diet.  Sprinkle the shrimp with lemon juice, salt, and cayenne pepper and set aside.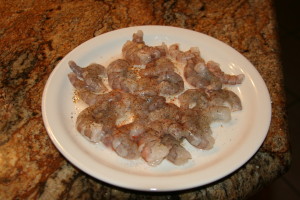 Secondly, fry enough bacon to have about 3 Tbsp. of grease in skillet.  Save the crispy bacon.
Saute onion and bell pepper in grease until the onion starts to become transparent.  (Personally, I am not a big fan of onions, so I used green onions here and I added fresh mushrooms because I had them and because I love mushrooms.)
Next sprinkle 2 Tbsp. of flour over vegetables and stir constantly (about 2 minutes) until flour begins to brown.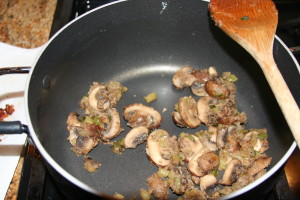 Add the shrimp and about 1/2 cup water or stock (I used chicken broth), stirring constantly and turning the shrimp so that they cook evenly and the gravy becomes smooth. (Note: it is extremely easy to overcook shrimp, so don't let them cook too long.  You don't want all that hard work you did peeling them to go to waste.)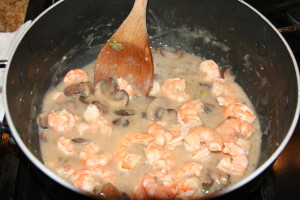 Meanwhile, you need to make a pot of grits.  I used 1 cup water, 1 cup milk, 2 Tbsp. salted butter, and 1/2 cup grits.  Cook as directed on the back of the package. Beautifully creamy.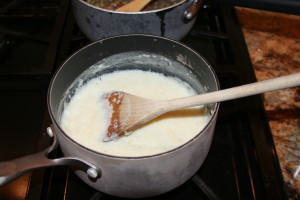 Spoon out the grits into a bowl and add the shrimp mixture.  (You may want to heat your bowls to make them warm prior to the assembly…I like my food HOT.)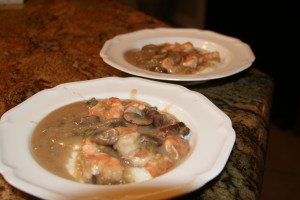 Oh wait!  Not so fast.  Remember the bacon?  Yes, that's better.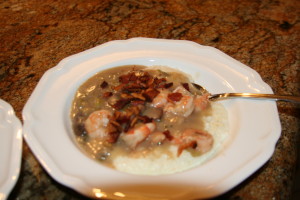 Now all that's left to do is enjoy this little bit of heaven on earth by a cozy fire on a cold January night.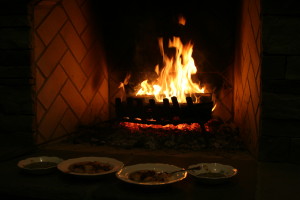 "Therefore, whether you eat or drink, or whatever you do, do everything for God's glory." 1 Corinthians 10:31 (HCSB)