Last week I testified to God's faithfulness to allow me to participate in a Mission/Vision trip to El Salvador with Compassion International.  I had mentioned that it was a trip of a lifetime, and it was! Just knowing that I almost didn't get to go made the whole experience extra sweet and special for me.  I soaked in every moment.
"Praise the Lord, my soul;
all my inmost being, praise his holy name.
Praise the Lord, my soul,
and forget not all his benefits—
who forgives all your sins
and heals all your diseases,
who redeems your life from the pit
and crowns you with love and compassion,
who satisfies your desires with good things
so that your youth is renewed like the eagle's.
The Lord works righteousness
and justice for all the oppressed."
Psalm 103:1-6 (NIV)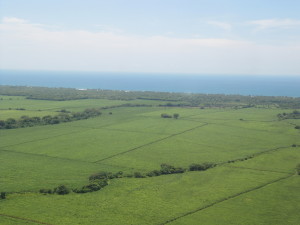 El Salvador is a beautiful land with rolling hills and lush landscape, and it is sometimes referred to as the "Ireland of Central America." But despite its geographical beauty, it is a place where poverty runs rampant as do the gang members.  The problem seems to lie in the educational system: public grade schools are conveniently located to the students, but the high schools are sparse, requiring extra transportation costs.  Many of the families cannot afford this extra cost so the child drops out of school making them an easy target for the gangs to pick up as a new initiate.
Our group of women could feel the oppression as we drove through the littered streets.  Gang signs were present on poles, marking their territory lest anyone else try to lay claim.  We were told to put our cell phones out of sight or else they would most likely end up on the black market.  An armed guard or police officer was stationed at most of the establishments we visited.  The average family monthly income in the rural areas of El Salvador is $120.  Let that sink in for a moment. That's only $1,440 per year to support an entire family.  Yet even through all the impoverishment, I saw a land of hope.  And that hope lies in the faces of the children.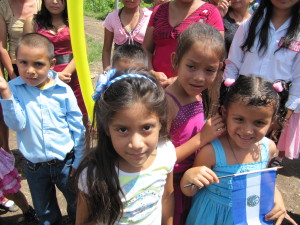 The first Compassion center we visited was extremely new, only a few months old.  Casa de Pan (House of Bread) is run by Carlos and Candy who have a passion for the children and love them with an agape love.  You could see the gratitude that Candy had for the Compassion sponsors and she teared up several times when describing how much this center means to each child that visits it. It is a place where they can come twice a week to receive a meal (of which they usually save as much as possible to take back to share with their families), tutoring for school, and a chance to hear about how much Jesus loves them.  Most of them do not hear from their parents that they are loved, much less that they are smart or valuable. The center tries to teach them that they have a hope and a future in Christ.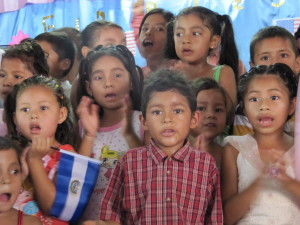 (The children sang "Open the Eyes of My Heart, Lord" in English.)
After we visited with different families in the community, we returned to Casa de Pan to pray over those running the center.  But oh my were we in for a treat when Candy started praying over us with the rest of the center members praying out loud at the same time. The Compassion interpreter did an excellent job of translating, but it didn't really matter. The Holy Spirit's presence was so strong that it was all we could do to try to keep it together.  We had been to church…in the purest way! Praying for one another, lifting each other up to Jesus, knowing that He will supply every need.  These people are desperate for the Lord and it spills out into their everyday life.  It was a rich moment that I hope never to forget.
As I was leaving, I slipped Candy a $20 bill and told her that it was for the offering plate.  She was crying and telling me "Gracias, gracias, gracias!"  It struck me that I had spent more than that on a pedicure before I left, of which the paint was already chipping off.  I am sure that the twenty dollars I gave her went a lot further and will have a much more lasting effect than a pedicure ever could.  Candy had told me that through the church she and Carlos feed the entire community on Christmas Eve.  When I asked her where the funds for that came from she said, "The Lord always provides."   That's what I would call being "spiritually wealthy," wouldn't you?

If you are interested in sponsoring a child from El Salvador, please contact me or visit compassion.com/elsalvador.  Release a child from poverty in Jesus' name.